How Blackbaud Used Uberflip AI to Triple Their Content Engagement
We live in a world where buyers have more access to information than ever before. According to SiriusDecisions, 67 percent of the buyer journey is now done digitally. This means that getting buyers to engage with your content is pivotal to the prospect and customer experience.
Capturing our prospects' attention is more difficult than ever. Just think of how many emails, meetings, text messages, and notifications you get in a day. When we do succeed in getting them to engage with our brand, we need to keep them there. If we can only get them to consume one piece of content per visit, we're in store for a long sales process that's easy pickings for other competitors to swoop in.
With artificial intelligence, marketers can now deliver the right content at the right time and compel visitors to stay on your site and consume more than ever before.
Just ask the team at Blackbaud...
In late 2016, Lisa Kenney, Principal Demand Generation Marketing Manager for Blackbaud's Arts and Culture Group, inherited an underperforming, outdated, and exhausted email nurture for one of Blackbaud's leading fundraising management solutions, Blackbaud Raiser's Edge NXT (RE NXT).
Lisa and her team needed to relaunch the campaign with a solid story and a content experience that encouraged prospects to self-educate and move faster down the buyer journey.

Building the Email Nurture
To overhaul the campaign, Lisa sought to better understand her buyer. She knew her fundraisers relied on events, and she knew her story needed to convey what to do before, during, and after an event. She created a focus group with people who worked in fundraising at arts and cultural organizations to help outline useful tips and steps for leveraging RE NXT during the event planning process. The nurture campaign was renamed to Master How You Mingle.
From their focus groups, Lisa and her team had a ton of great tips and insights to incorporate into their campaign. They decided these would be the perfect focus for their email nurture, with the prospect receiving 12 tips over a period of 12 weeks. They created a Marketo campaign consisting of 12 emails, targeted at their fundraiser marketing segment.

Building the Content Experience
Lisa now needed to create an engaging content destination for each of her emails. She published blog posts for each tip in her emails, but also curated relevant content that already existed in Blackbaud's resource center and packaged it all together in an Uberflip Marketing Stream. The result was a single content destination for the Master How You Mingle Campaign.
With this single destination, Lisa could now drop prospects into a single item from each email, but also offer a complete self-serve content experience. If they wanted to binge on all of that content, it was right there at their fingertips. They didn't have to wait for the next email. Plus, if they nurtured themselves to a Marketing Qualified Lead (MQL) state, they were removed from the email nurture completely.

Using Intent-Based Recommendations to Increase Engagement
With the ultimate goal of maximizing the engagement per visit, Lisa and her team turned to Uberflip AI to deliver intent-based content recommendations to their campaign visitors.
With Uberflip AI, the Blackbaud team could serve up recommended content to each prospect, encouraging them to continue on to a new related asset.
Better yet, by leveraging Uberflip's integration with Bombora, an industry-leading intent data platform, they could deliver personalized recommendations based on a visitor's intent.
The result? The Blackbaud team found that members of their Master How You Mingle campaign were consuming an average of seven pieces of content per visit. That's roughly 3x the average of other visitors to their main resource center.
Lisa was also able to deliver this same content experience, right on the Blackbaud RE NXT product page. With Site Engager, she could serve up personalized content recommendations to visitors as they scrolled through the web page—even when they attempted to exit.
Prospects could then consume the recommended content right on the page itself, as part of a personalized journey. All powered by Uberflip AI.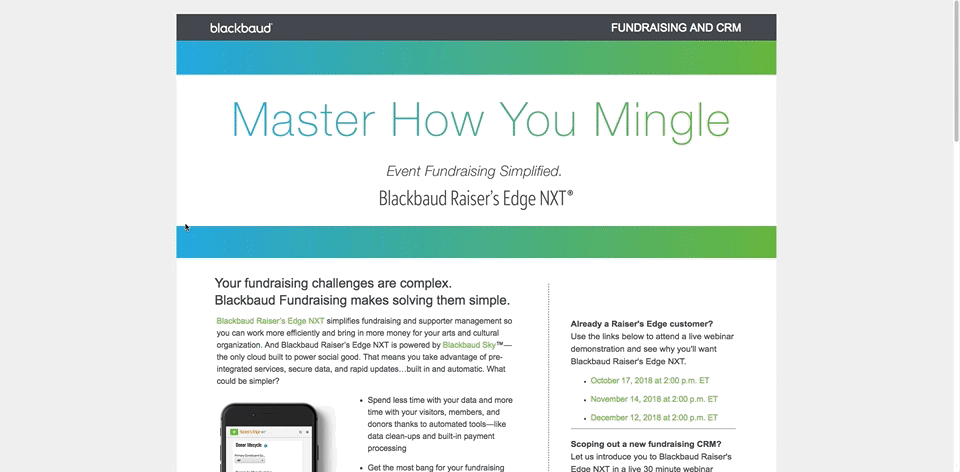 The Results
When the dust settled, Lisa and her team were thrilled with the results from their Master How You Mingle Campaign. Visitors to their campaign Stream consumed an astonishing amount of content, an estimated seven pieces per visit, three times their normal rate.
Since the campaign launched, the emails have quickly become the number one RE NXT pipeline influencer for her market, influencing more than 41 opportunities and counting. In Q4 2017 alone, the emails themselves contributed to a 42 percent opportunity-to-deal conversion rate.

Our Challenge to You
Chances are, you're planning a marketing program or campaign that relies on content to engage your buyers. Focus on creating a great experience around your content that personalizes the journey for every prospect and see your engagement start to skyrocket.
---
Visit Uberflip Help to access more how-to guides and troubleshooting articles, or to contact Uberflip Support.