(Basic to Intermediate) Introduction to Content Recommendations
Content Recommendations makes it easy for marketers to fuse the art of marketing with the science of artificial intelligence. The end result? Deeper content engagement, more personalized content experiences, and accelerated sales cycles for marketers and salespeople.
What Are Content Recommendations?
Uberflip Content Recommendations is a content recommendation engine which can offer personalized suggestions to visitors as they browse your Hub. Using Content Recommendations can help you to surface content that's relevant to your visitors' interests, keeping them engaged with your content for longer.
Content Recommendations must be customized to your visitors' needs and interests to be valuable, so we use Uberflip AI to power the recommendation engine. This allows you to serve up the most relevant content for each individual visitor. Alternatively, you can also opt to manually define Streams from which to serve recommendations.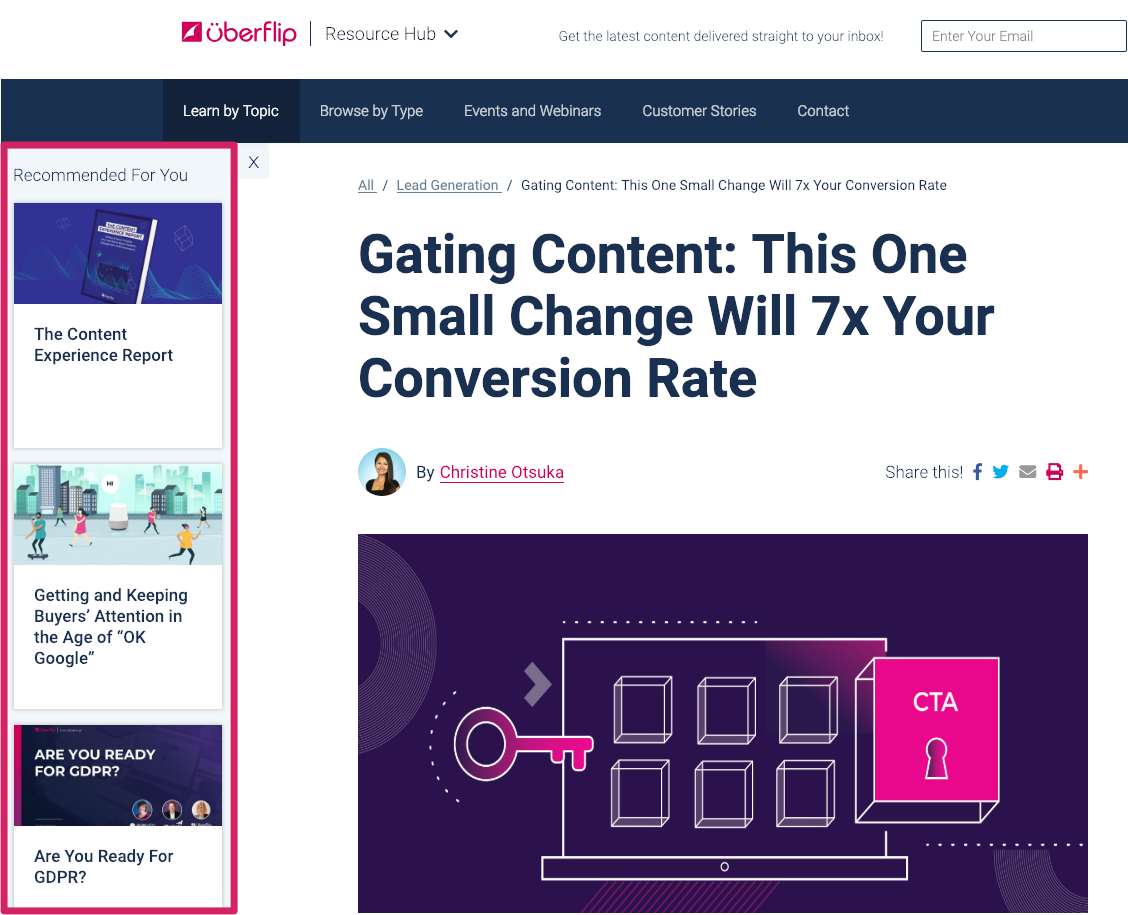 Note: Uberflip AI is not available on some pack types. Content Recommendations requires Uberflip AI, so if your pack type does not include Uberflip AI, this feature will not be available in your Hub. For more information about your pack type and what's included, please contact your Customer Success Manager, or Uberflip Support.
How Do I Use Content Recommendations?
Content Recommendations consists of two core components that work hand-in-hand:
Recommendation Templates: Templates control the look, feel, and location of the recommendations (i.e. left panel, next/previous article).
Recommendation Rules: Rules control which content is recommended to visitors and how that content is chosen to be recommended (using AI or manual Stream selected by a marketer).
To use Content Recommendations in your Hub, you set up a Recommendation Rule to define the details of the recommendations (i.e. the "what" and the "where"), then assign a Recommendation Template to that rule to define look and feel. Once everything is set up, you simply turn on the Recommendation Rule to make it active on your Hub, where it will begin serving content recommendations to keep your visitors engaged.
You can find a detailed, step-by-step guide to installing and setting up Content Recommendations in this article.
---
Visit Uberflip Help to access more how-to guides and troubleshooting articles, or to contact Uberflip Support.